Green Tea and Weight Loss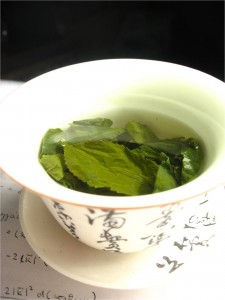 Green Tea and Weight Loss
When considering green tea and weight loss, it is important to realize that one pound of fat is equivalent to approximately 3500 calories.  Regardless of the weight loss program chosen, it is going to take a calorie deficit or shortage of 3500 calories less than your normal "set point". This set point is the point at which you neither gain, nor lose weight, but simply maintain your current weight. The calorie deficit necessary to lose weight can result from a change in diet, an increase in exercise or a combination of both of these.  If you want to lose one pound per week, you will need to create a calorie deficit of approximately 500 calories each day. (500 calories x 7 days = 3500 calorie deficit). Of course, the converse is also true. If you consume an additional 500 calories per day, above your set point, you will GAIN one pound per week.
Green Tea Weight Loss Benefits
Current research suggests that drinking five cups of green tea each day could actually burn an additional 70 to 80 extra calories per day. Green tea weight loss results when these additional calories are burned through a process known as thermogenesis, a physiological process of heat production. A good portion of the thermogenesis effect is a result of the occurrence of caffeine; however, studies also show that the effects go beyond the caffeine content of green tea and some of this therogenesis benefit is derived from epigallocatechin gallate or EGCG. There is an even greater thermogenic and weight loss benefit when green coffee is used. 
Of course, burning an additional 70 or 80 calories per day is not even close the 500 calories needed to lose a pound of fat per week. And for anyone who wants to lose two or three pounds per week, obviously they will need to do more than drink green tea or weight loss tea, this is not a method for quick weight loss. However, there is no denying that green tea weight loss benefits do exist and drinking green tea or oolong tea weight loss supplements will certainly help you lose weight, especially when used in conjunction with the best weight loss program. According to recent research, if you did nothing more than drink five cups of green tea every day, it would take 43 days to lose one pound. Now, that might seem rather insignificant, but over the course of a year it would result in losing 8 pounds. Considering the only change made was to add some tea that can be a considerable amount of weight to lose.
Tazo China Green Tips Green Tea, 20-Count Tea Bags (Pack of 6)

Tazo China Green Tip Infuser, Case of 6 – 20 Teabag Boxes (120 Teabags)

$19.57

Davidson's Tea Bulk, Gunpowder Green, 16-Ounce Bag

Certified organic by State of Nevada Dept. of Agriculture. USDA organic.

$12.50

Kirkland Signature Ito En Matcha Blend (Green Tea), 100% Japanese Green Tea Leaves, 100 Tea Bags

Kirkland Signature Green Tea Matcha Blend, 100% Japanese Tea Leaves, 100 Tea Bags is made with Sencha Green Tea from Japan's lush tea plantations, known…

$16.45

Yogi Green Tea Kombucha, Herbal Tea Supplement, 16-Count Tea Bags (Pack of 6)

Our green tea kombucha was inspired by a remedy that dates back to ancient Russia. Updated for today's lifestyle, yogi's special formula of kombucha…

$15.82

NOW Foods Green Tea Extract, 250 Capsules / 400mg

NOW Green Tea Extract offers a convenient way to obtain the active constituents of Green Tea in a concentrated form. Green Tea Extract contains numerous…

$10.36

Rishi Tea Organic Jasmine Pearl Loose Tea, 3-Ounce Tin (Pack of 2)

Garden direct teas and artisan blends. The most sought-after grade of jasmine green tea. USDA organic. Certified kosher. Certified Organic by QAI. Who…

$25.78

Ito En (Oi Ocha) Japanese Green Tea, 16.9-Ounce Bottles (Pack of 12)

The most popular green tea beverage in Japan, Oi Ochais brewed from prime first flush green tea leavces, meaning it is a brew of the finest quality leaves…

$9.95

Bigelow Organic Green Tea, 40-Count Boxes (Pack of 6)

Our tea bags are sealed for freshness in airtight, flavor protecting fresh packs to ensure your full enjoyment. USDA organic. Certified 100% Organic….

$24.56

Adagio Teas PersonaliTea 21-Ounce Ceramic Teapot with Infuser Basket

Enjoy loose tea anytime with this elegant ceramic teapot. A large infuser basket provides ample room for the leaves to unfurl and infuse fully.

$9.75

Adagio Teas 0 16-Ounce Ingenuitea Teapot

The most convenient teapot you will find anywhere. When tea is ready, simply place it atop your cup. This will cause a valve at the bottom to release:…

$16.00

Bodum Assam 4-Cup Tea Press Teapot

Bodum Assam 4 Cup Tea Press Black 34 Oz. – Bodum 1844-01GVP

$27.95

Primula Flowering Tea Set with 40-Ounce Pot, 6 Flowering Teas, and Loose Tea Variety Pack

Primula Flowering Tea Set includes a 40-Ounce Glass Teapot, 6 Flowering teas and a Loose Tea Variety Pack. The tea pot is made of handblown, borosillicate…

$24.99
Green Tea and Weight Loss
Obviously, simply drinking green tea alone will not be enough to result in losing weight at the rate many people would prefer, but it can be very helpful as a weight loss aid or weight loss supplement. Those extra 80 calories burned each day can be exactly what you need in order to help tip the scale and create a calorie deficit.
If you are serious about wanting to learn how to lose weight, a green tea diet may not result in melting off the pounds all by itself, but it is certainly recommended as a diet supplement, not only for its metabolic boost, but also for the many other documented health benefits of green tea. And for those who do not like to drink tea, the same benefits can be found by using green tea extract or green tea pills; these weight loss pills have been shown to be just as effective as drinking the tea itself.  The best way to lose weight is with a healthy weight loss program, which includes green tea.
Please follow and like us: